Discipline
Financial success is achieved when you have the discipline to stick to your plan.
Confidence
Using an experienced team of professionals will create the confidence needed to weather market storms.
Success
Ensuring your assets will successfully fund your goals is the focus of our planning.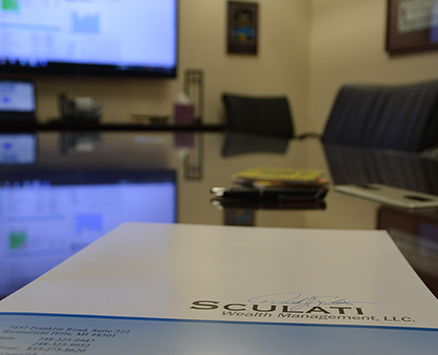 Welcome to Sculati Wealth Management
When David Sculati started Sculati Wealth, he wanted to create a firm that would allow clients to always be on the same side of the table as the Advisor. 
A conflict free method of doing business with full disclosure and complete transparency.
A focus on putting the Client and their Financial Plan first, and the portfolio or product second.
A commitment to sitting side-by-side with the client whenever needed.
Your Wealth. Managed.
We know how important your wealth is to you. You've built it since your first paycheck, and each dollar has a story to tell. It is your creation and you are entrusting us to manage it. We are grateful for every relationship we build and hope we will have the opportunity to help you.
We believe that in order to manage your wealth properly, we must start with a trusting relationship. From our initial meeting we want you to feel comfortable and at ease. We also believe that building a relationship with the other professionals you work with is extremely important. Think of us as your right-hand when it comes to decisions regarding your money.
Financial Planning
Our Certified Financial Planner™ will help you identify your goals for the future and the financial decisions necessary to help you realize them.
Investment Management
After completing your financial plan, we will put the plan into action using a custom-built portfolio of completely liquid and totally transparent securities.